Culture and Cosmos is a peer-reviewed academic journal in the history of astrology and cultural astronomy published by the
Sophia Centre Press
in partnership with the
Sophia Centre
for the Study of Cosmology in Culture, Faculty of Humanitiies and the Performing Arts, at the
University of Wales Trinity Saint David
Vol. 20 (2016) will be a double issue featuring papers based on the 2014 Sophia Centre conference on the Marriage of Heaven and Earth and is scheduled for publication in March 2017. Vol. 21 no 1 is scheduled for May 2017. Vol. 21 no 1 will feature papers presented at the 2016 conference of the European Society for Astronomy in Culture.
Volume 9
Volume 9, No. 1 - Out of Print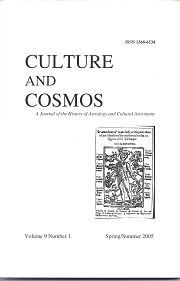 Table of Contents
Gennadij Kurtik and Alexander Militarev
___________________________________
Volume 9, No. 2
Table of Contents
Marinus Anthony van der Sluijs
A Possible Babylonian Precursor to the Theory of ecpyrpsos
Did Orphic Beliefs Influence the Development of Hellenistic Astrology?
Astronomical Luni-Solar Cycles and the Chronology of the Masoretic Bible
An Astrological Disc from the Sixteenth Century
Celestial Navigators and Navigation Stories