Culture and Cosmos is a peer-reviewed academic journal in the history of astrology and cultural astronomy published by the
Sophia Centre Press
in partnership with the
Sophia Centre
for the Study of Cosmology in Culture, Faculty of Humanitiies and the Performing Arts, at the
University of Wales Trinity Saint David
Vol. 20 (2016) will be a double issue featuring papers based on the 2014 Sophia Centre conference on the Marriage of Heaven and Earth and is scheduled for publication in March 2017. Vol. 21 no 1 is scheduled for May 2017. Vol. 21 no 1 will feature papers presented at the 2016 conference of the European Society for Astronomy in Culture.
Volume 10
Volume 10 no 1 and 2 (Spring/Summer and Autumn/Winter 2006), special double, issue on The Worship of Stars in Japanese Religious Practice
Volume 10 was a collaboration with the The Centre for the Study of Japanese Religions at the School of Oriental and African Studies, University of London, guest edited by Lucia Dolce.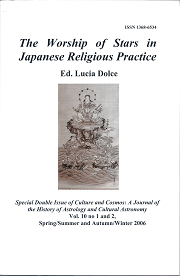 Table of Contents